It has been scientifically proven that an aquarium presents several health benefits to owners. According to numerous studies, watching fish swimming around in their fish tank is one of the best ways to relieve stress, lower blood pressure and make you feel relaxed after a stressful day at school/ work. Not to mention, a well-designed aquarium is a beautiful addition to your home that will surely draw everybody's attention.
In order to create a better focal point for your house, it is advisable that your fish tank features unusual and creative decorations. Below is a list of the best cool fish tanks that I have tried and deemed worth the investment. If you would like to learn more in detail, please continue to read.
Here are the coolest fish tanks in the market
1. Aqueon Betta Falls Kit
Buy it now
The first thing that comes to my mind at the mention of this aquarium is its unusual, yet contemporary-looking shape. The whole thing is designed to resemble a stylish 3-part cascading waterfall. Due to its compact design, it is the perfect ornament for your home and office's desktops. With Aquaeon Betta Falls Kit, you are now able to relax to the calming presence of cascading water, while admiring the natural beauty of your marine friends at the same time!
The three separate compartments allow the unique fish tank to house up to three bettas, small fish or crustaceans. Frosted panels are featured to prevent fish from entering one another's living habitat, which may result in a fight in the end. This also means that the fish tank is ideal for those who wish to raise fins of different breeds.
The waterfall provides your marine friends with a constant flow of filtered water, which is achievable due to Aqueon QuietFlơ Filtration. This high-quality filtering system ensures that your fish can always enjoy a fresh and healthy living environment.
Some people might be worried that the waterfall may be intrusive to their daily business. However, I can assure you that the whole thing is very quiet, so you can put it on your desktops without being disturbed at all.
That being said, the cool fish tank does have its con. The current is sometimes a little bit strong for your friends, so you may want to set the pump on its lowest setting. Besides, it is advisable that you only run the filter when at home, just to make sure that your fish does not get sucked into the grate.
To sum up, Betta Falls is an elegant and uniquely designed aquarium that makes a stylish addition to any home or office. Simply add décor such as gravel, rocks, pebbles, colorful gem stones, or small plants to bring your personal touch to life!
---
2. Penn Plax Aquaponic Betta Fish Tank Promotes Healthy Environment for Plants and Fish
Buy it now
As the name might have suggested, Penn Plax Aquaponic Betta Fish Tanks is meant to provide a symbiotic living environment, where fish and co-exist with plants. The fish tank consists of two separate parts. The lower one is an ultra-clear, high-quality plastic cylindrical bowl, in which your marine friend is free to enjoy his/ her life. The upper part is a ceramic planter bowl, which provides a convenient platform for plant growing.
The symbiotic relationship between your fish and plants is extremely crucial in terms of their survival. The waste produced by the fish is a nutritious source of food for the plant. In turn, the plant helps purify the water of the aquarium, so your marine friend are able to enjoy a fresh and healthy living environment. Thanks to the above-mentioned feature, the cool fish tank not only makes a naturally beautiful addition to your house/ office, but it also provides a way of educating hobbyists and children. By observing the symbiotic relationship between plants and fish, your kids are given a good opportunity to develop a compassion for nature and a craving for knowledge.
Penn Plax Aquaponic Betta Fish Tank is suitable for a variety of fins, including betta, goldfish, bloodfin tetra, danios, and white cloud minnow. Most indoor plants are likely to enjoy the environment this aquarium provides. Suggestions include Chinese evergreen, English ivy, bamboo, mint, watercress, chives, and any leafy lettuce.
The Aqua-Ponic tank comes with ceramic planting media to retain water and support root growth of the plant you choose. If necessary, the planter can be easily removed, so that you can clean the inner part of the aquarium.
Overall, if you are looking for a fun, beautiful, functional and educational cool fish tank to buy, Penn Plax Aquaponic Betta Fish Tank is definitely worth trying!
---
3. Umbra FishHotel Mini Aquarium, Great for Goldfish, Bettas, and Other Small Fish, 1.8 Gallon
Buy it now
Ever thought of an aquarium that resembles a real-life hotel, where fins can float around in their own "room"? Sounds interesting, right? Well, then what do you think if I say that your dream has at last come true?
The Umbra Fishhotel Mini Aquarium is notable for its striking modern design. It is comprised of several stackable fish bowls that can be stacked together to create a contemporary-looking condominium. The re-invented aquarium features a sleek white shell with multiple asymmetrical windows; in addition, the detachable outer shell can be painted to match your home or office décor. As a result, Umbra FishHotel makes a nice addition to your house/ office.
Aside from the aesthetic value, the cool fish tank is also very convenient to use. The fish bowls are made from durable glass with white ABS plastic outer shell – these sturdy materials allow you to enjoy the product's benefits for much longer. The glass bowls are removable, which makes it easier for you to clean the aquarium.
The cool fish tank provides an award-winning, modern home for your tropical marine friends such as bettas, goldfish, and other small fish. It is also suitable for plant growing. In my case, I have used it to house a couple of aloe plants.
Everything has its own advantages and disadvantages, though; Umbra FishHotel is no exception. As the glass tank is just six inches high, your fish may be able to jump out through the two side openings, which can still be prevented by lowering the water level. Moreover, since this is only a one gallon tank, it is not advisable to put any other types of fish in this tank other than a betta.
Overall, Umbra FishHotel is a really cool fish tank in terms of decorative design, simplicity to use and sturdiness. If it hadn't been for its specifications, I would have given it 5 stars!
---
4. Penn Plax Presents The AquaTerrium Planting Tank – Grow Plants and Fish in one Environment
Buy it now
The aesthetic value is the first notable feature of this product. Penn Plax AquaTerrarium is a beautiful, crystal clear curved tank that comes with a combination of miniatures, including waterfall, rocks and plants. This combination is sure to bring a real sense of nature to your house. For those who want an elegant décor item, Penn Plax aquarium will not disappoint them.
Thanks to its lighting system, the cool fish tank provides an open-air symbiotic environment where live plants are able to thrive alongside your marine friends. The high powered LEDs help create enough light for live plants to survive in the ecosystem.
In addition to aesthetics, the fish tank is also a healthy habitat for you marine friends. Its integrated water filter ensures water purity and constant nutrient supply to your plants.
For small fish such as goldfish, the terrarium is a great choice. You can put this on your desk and enjoy your finned friend's beautiful kingdom while doing your own business.
---
5. Midwest Tropical AquaTable Aquarium Octagon
Buy it now
Midwest Tropical AquaTable Aquarium Octagon is a specially styled coffee table that is fit to be placed at almost anywhere. Due to taking up little space, the aquarium is recommended for those whose house is limited in space.
The 28-gallon tall fish tank is made from crystal clear, hand-formed acrylic that is durable enough to provide long-term use and ensure the safety of your marine friends. The transparent material, combined with its shape, results in an ornate and highly decorative object.
The whole package includes every necessary thing: pump, filter, lighting, decorative plants and easy-to-follow instructions. The aqua tower is easily assembled and can be set up with little effort. That's just so convenient, isn't it?
As much as I like the fish tank, I realize that there are certain things that need improvement. Firstly, the glass top is not secure enough – you can easily slide it by bumping the table. Secondly, it is impossible to hide filter and heater wires. If only there was some kind of built in feature to hide these things – that would have been nice!
To sum up, if it hadn't been for the above-mentioned downfalls, Midwest Tropical AquaTable Aquarium Octagon would have been the perfect ornament for your own house. Place the cool fish tank in your home/office, and anyone visiting you will be able to observe the breath-taking blend of water, fish, and flora. This should give them a truly relaxing experience after a stressful journey!
---
6. BettaTank 2-Gallon Gumball Fish Tank with LED Lighting
Buy it now
The 2-gallon betta fish tank features an energy-efficient LED lighting system with 7 dazzling color choices; amber, aqua, blue, green, purple, red and white. Depending on the time of day or night, you may select the best option to give a gorgeous glow to your marine friends' habitat. Just imagine watching beautiful tropical fish gently swim back and forth after a stressful long day – it will undeniable allow you to relax your mind and improve your well-being.
The LED lighting system can be automatically set due to the built-in light timer. This timer enables you to easily change your light settings to 2 hours, 4 hours or continuous on.
The whole thing is well-constructed with impact-resistant and crystal-clear plastic, which boasts immense strength and dependable durability. Unlike glass tanks glued together with silicone, this sturdy cool fish tank helps alleviate you from all worries about water leaking or fish getting out of the aquarium.
The contemporary-looking fish tank is very easy to set up and maintain. Considering the busy lifestyles nowadays, a beautiful aquarium like this is not only decorative, but also capable of providing therapeutic benefits enhancing positive feelings. You can put it anywhere, either in your own house, office or other locations to provide a stress-relieving method for both you and other people.
---
7. The Nifty Nook Exclusive Design New Good Luck Decorative Gold Antiqued Elephant Glass Fish Bowl Tabletop Aquarium or Terrarium or Candle Holder,New 1 Gallon Size Fish Bowl with River Rocks
Buy it now
For those looking for an antique-looking, Asian-styled fish tank, I am sure that they will want to consider this.
The Nifty Nook glass fish bowl is designed as an artistic kneeling elephant statue carrying an ultra-clear fish bowl on its back. Due to the elephant's antique-looking and stylish design, the terrarium is sure to draw the attention of every visitor who comes to your house/ office.
Thanks to being crafted from durable polyresin, buyers are able to enjoy the benefits this fish tank provides for much longer. Not to mention, the material also gives the statue an antique and expensive look.
The fish aquarium is not only meant to provide a living habitat for your fish; it can be planted with delicate greenery to create a decorative Terrarium that every guest will surely adore. That's just cool, isn't it? Now, you are able to create your own small fish habitat, terrarium planter or candle holder display in whatever way you like.
In addition to the aesthetic value, the aquarium also conveys spiritual meaning. There has long been a notion that elephants are able to bring good luck. In Asian ideology, the elephant is a symbol of strength, power, stability and wisdom. If you hold such belief, then this cool fish tank is a crucial décor item – put this on your tabletop and who knows, good luck may just arrive!
The Nifty Nook Elephant Glass Fish Bowl is a great gift for elephant lovers, family and friends. Not to mention, if you happen to have an Asian business partner, this fish tank has even more meaning to them and is able to strengthen the business relationship you share with them. Give it a try – I'm sure you will not regret your decision!
---
8. iMac Aquarium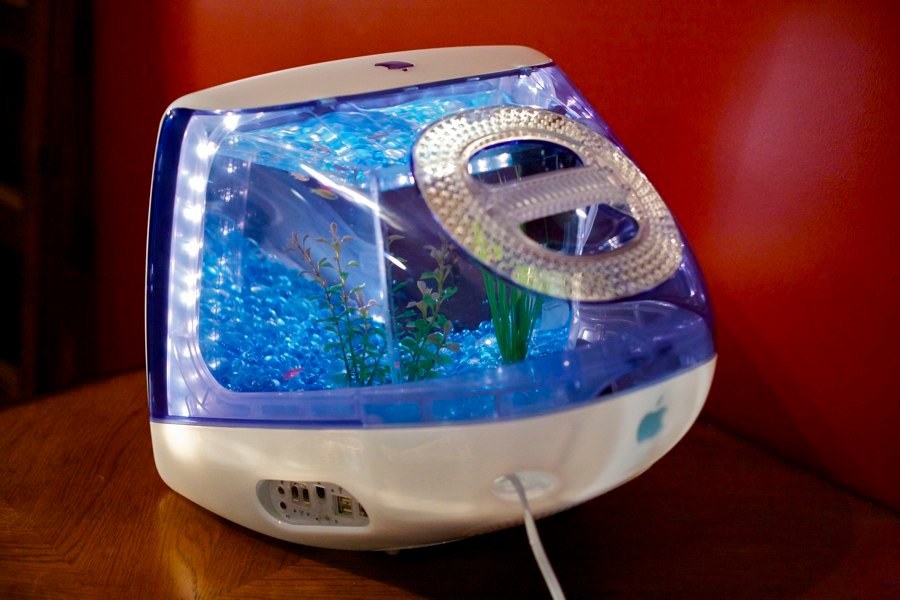 Buy it now
What? A fish tank that resembles an iMac? "Ridiculous", you may think. Well, to me, it's a super cool idea. And the even cooler thing is that, it's real!
iMac Aquarium is basically an Apple computer that has been transformed into an aquarium. The iMac case features a built-in 3.5-gallon acrylic tank that is desirable in terms of both durability and aesthetics. To further enhance its appeal, the case is polished and waxed carefully, which makes the whole thing look very new and contemporary-looking. As a result, this cool fish tank is a nice ornament to your house and your office desktop.
The translucent cases allow you to observe your finned friends' activity inside. The entire tank is wrapped around by a LED strip light, which helps illuminate the aquarium from all four sides and provides you with unforgettable fish-watching experience. If you place translucent stones at the bottom of the fish tank, then the whole thing just becomes much cooler, as the light can now shine up through the bottom part of the case.
At the base of the iMac Aquarium is a hidden power receptacle. This receptacle allows you to plug in an additional item such as a device charger, tank heater, or alternative lighting. Simply remove the bottom of the unit, plug in your device, and reassemble – you're done! This feature is meant to serve different purposes. Want more lighting diversity? Check! Wish to improve the heat for your marine friends? Check!
One last thing: the iMac Aquarium features a Whisper 3i In-Tank Filter cartridge with activated carbon inside. This allows the water to be always fresh and ensures that your fish stay healthy all the time.
In conclusion, I believe this is a super cool fish tank in terms of originality and effectiveness. For those who crave for a truly innovative and stylish aquarium, do not miss on the opportunity to try this!
---
Conclusion
A cool fish tank is just one of the nicest additions to your house and office. Not only is it beneficial in terms of health benefits, it also plays an important role in enhancing your own space's beauty and attracts the attention of every visitor and improves their experience of interacting with you.
With the availability of several brands and models nowadays, newbies may find it hard to decide which aquarium to choose. For this reason, I have compiled this list, which consists of fish tanks that are both original and worth buying. As long as you study my analysis, I'm sure you will be able to make the right purchase.