A fish tank is just one of the nicest additions to your house. If you happen to be a fish lover, a well-chosen fish tank is the first thing that you should look for in order to provide your pet fish with the most comfortable living environment. Not to mention, it also presents a wide variety of benefits. For example, after a stressful day at work, watching your beautiful fish swimming around is a scientifically-proven effective way to relieve pressure and calm yourself down.
When it comes to fish tank shape, there are a lot of debates. Some people say that a wide fish tank is the ideal choice, while others claim that a tall narrow one is more preferable. Today, I would like to talk about tall fish tanks, their benefits over the wide counterparts as well as some of the best aquariums that fit this height criterion. If you would like to learn more in detail, please continue to read.
Benefits of a tall fish tank
There is no universally definition for a tall fish tank, as everyone has different perception of height. Generally, an aquarium with a height of 30 inches or more is considered "tall".
When it comes to fish tank shape, there are a lot of arguments. Sometimes, it may be a good idea to opt for a short wide fish tank instead of a tall narrow one. For example, a short wide aquarium is generally easier to clean and refill. However, a tall fish tank still presents several benefits that may overshadow its drawbacks.
Now, let's have a look at some of the most prominent advantages.
Greater durability
The first reason to consider purchasing a tall fish tank is its durability. Normally, a tall aquarium is more capable of withstanding the tremendous amount of pressure caused by the volume of water inside. In an all-glass aquarium, strength is correlated with the glass thickness. Years back, the thickest glass was only ½ inch thick.
Extra safety for your fish
Sometimes, fish can jump out of the aquarium if it is short enough, which is something you never want to happen. Not to mention, your adorable cats may be able to jump in and do whatever he/ she wants with your marine friends. A tall fish tank provides a perfect solution to this dilemma.
Better view
A tall tank is generally nice and pleasant to look at. It also allows a much bigger view compared to a short wide one. In addition, a tall fish tank means that more fish of different breeds can be put inside it, which is appealing to most fish keepers.
Suitable for certain types of fish
Keep this is mind: certain types of fish prefer taller tanks. For instance, because of their long dorsal and anal fins, it is better to raise Altum Angelfish in tall tanks so that they can show their wide fins. Another example, Frontosas are deep water fish, which means that tall fish tanks provide a much more natural living habitat for them.
Ideal for small rooms
I believe this is self-explanatory. If you cannot afford much space for your fish tank, then consider buying a tall narrow one.
Best tall fish tank reviews
Now that we have learned the benefits of tall fish tanks, let's have a look at the best ones available now in the market.
1. MarineLand Portrait Glass LED Aquarium Kit
Buy it now
The MarineLand 5 Gallon Portrait Aquarium Kit is a nice sight to behold at your house. It is made from transparent glass, which allows undisrupted view of the inhabitants inside. This view is further complemented by its lighting system. The white LEDs produce a shimmering light in the water that mimics sunlight underwater, while the blue LEDs are used to provide a relaxed moonlight glow. That is just wondrous, isn't it? In addition, there is 3-way switch to toggle between white and blue, off, and blue-only settings. Therefore, you can choose whichever lighting effect that best suits your taste.
Aside from its aesthetic value, the tall fish tank is also beneficial in terms of safety. Not including the pedestal, the tank is 14″ high and roughly 9-10/16″ wide and long. A plastic divider across the back of the tank helps create a separate rear 2" compartment. The rear compartment has a somewhat flimsy plastic piece covering it. These things result in a well-constructed aquarium that is capable of preventing fish from jumping out and cats from jumping in.
MarineLand Portrait Kit features a 3-stage hidden filtration with a Rite-Size Z Cartridge, Marineland Bio-Foam, and an adjustable flow filter pump that recirculates the water into the main tank compartment.
I also love the fact that the aquarium is covered with a hinged glass canopy, which can slide to the side for you to easily access the tank.
That being said, the tall fish tank does have its cons. The rear compartment allows plenty of room for a multi-stage filtration system but is instead restricted to standard carbon cartridges. I believe that it is preferable to have a basket system where sponges, floss, bio media, Purigen, etc. can be used. Besides, the plastic cover for the rear compartment is flimsy and ill-fitting, so you may want to consider replacing it.
---
2. Fluval Spec III Aquarium Kit, 2.6-Gallon
Buy it now
The Fluval Spec III is a contemporary-looking aquarium specifically designed for small areas such as desktops and countertops. The 2.6-gallon etched-glassed fish tank features aluminum trim and a sleekly designed lighting system that consists of 31 powerful LED lamps. These lights, when combined together, produce a gorgeous glow to the tank and its inner content. After a stressful day at work, you may be eager to come home in order to witness the beauty of your aquarium – it's just one of the best ways to relieve pressure!
The small tall fish tank comes with a powerful circulation pump and adjustable output nozzle. It is designed with a superior three-stage filtration to keep the water fresh, clean and healthy for your marine friends all the time. The aquarium kit includes all the necessary filter media: a porous foam block with convenient handle, activated carbon and BioMax bio rings for effective and thorough mechanical, chemical and biological filtration.
The pump and filtration system are conveniently located in a separate chamber at one end of the aquarium, which makes the whole system easy to clean and maintain. Not to mention, the design helps conceal the filer and cords to further complement its aesthetic value.
Another noticeable feature of this tall fish tank is that there is a compartment for a heater. This is especially helpful if you intend to raise betta and other tropical fish, as it helps keep the water warm and stable for them. Like the filtration system, the heater can be kept hidden so that you can view the inner content with little disruption.
Overall, I would like to describe Fluval Spec III as a fish tank that is small in size, but "big" in feature. Just try it – I'm sure you will not regret your decision!
If you would like to learn more about small fish tanks, please click here.
---
3. Penn Plax Presents The AquaTerrium Planting Tank
Buy it now
Ever thought of having mountains and waterfall in your house? Well, you will be pleased to know that such a thing does exist … in the form of a fish tank.
Penn Plax AquaTerrarium is made from crystal clear glass to allow for unobstructed view of the inside content. It features a combination of artificial waterfall, rocks and plants, which is not only aesthetically pleasing, but also brings a whole new sense of nature to your house.
The tall fish tank is meant to provide an open-air environment where fish and plants can co-exist on the basis of nature's metabolic cycle. Fist, fish produce waste, which is then absorbed by the plants. The final result is a fresh, healthy environment for your fish, and a constant supply of nutrients for the plants.
Penn Plax aquarium makes a nice addition to your home/ office desk. Now, whenever you get bored or exhausted, just have a glimpse at your finned friends' kingdom and see if you are provided with a new surge of energy!
---
4. Aqueon LED Aquarium Starter Kit Column Black 15 Gallon
Buy it now
The feature of this product that I found most lovely is its inclusion of basically everything you need for a fish tank. Aside from the 15-Gallon Aqueon Aquarium Kit itself, you are also presented with an Integrated Florescent Light Hood, QuietFlow Power Filter, Medium Filter Cartridge, Premium Fish Food Sample, Water Conditioner Sample, Fish Net, Thermometer and Set-up Guide. How convenient it is! Setting up a fish tank has never been easier before.
The fluorescent hood is designed with LED lights to create a nice glow to the water. The lighting system is meant to provide a clear, illuminated view of the swimming fish inside without disturbing them.
One more selling point of this tall fish tank is its preset submersible heater, which functions as a heat regulator by keeping the water at a steady 78 degrees. This temperature stability makes Aqueon Aquarium Kit a pretty suitable living environment for tropical fish.
What's more, the QuietFlow LED PRO power filter features a red LED warning light that will start flashing when it's time to replace the cartridge. Therefore, maintenance becomes a lot more simplified and easier.
The only thing I'm concerned with is the filter's constant noise, which I find a little bit irritating. Not to mention, the aquarium kit is a little bit expensive compared to similar items. Nevertheless, I believe these are perfect tradeoffs, considering the above-mentioned variety of benefits it presents. As long as you are a hard-core fish lover, I highly recommend you try this fish tank for at least once.
---
5. 10 Gallon Vertical Aquarium Gecko/Arboreal Conversion Kit
Buy it now
Although this is a gecko/arboreal conversion it, it can also be filled with water to provide a perfect living habitat for your fish. The kit is useful in reusing your 10 gallon tank and turning it into a 10 gallon tall fish tank for your marine friends.
The item is made from 1/8-inch acrylic, which boasts dependable durability and allows you to enjoy its benefits for a longer time. Not to mention, the material is also safe and highly decorative. With Jeremy's Sawdust Factory's conversion kit, now your own house has gotten a new focal point! The price is pretty affordable, so this item is a great choice for people of every budget.
The item's dimensions are 9 3/4 inches wide x 19 1/2 inches tall to fit Aquaeon fish tanks from major retailers. The standard kit does not include aquarium safe silicone – you need to purchase one by yourself.
If you would like to learn more about 10 gallon fish tanks, please click here.
---
6. Midwest Tropical AquaTower Aquarium Pentagon
Buy it now
Midwest Tropical AquaTower Aquarium Pentagon is a sleek, good-looking geometric fish tank that is sure to attract the attention of passerby. Due to its size, the aquarium takes up little space and can be placed at virtually anywhere.
The 30 gallon tall fish tank is made from acrylic, which is a notoriously durable material and ensures long term usage. Due to the material's crystal clear transparency, viewers should have little difficulty in observing the content inside from every angle.
I also love Midwest Tropical aquarium because of its owner friendliness. The package includes everything: a pump, filter, lighting, decorative plants and easy-to-follow instructions. Not to mention, the assembly process is very simple, so newbies should not be afraid of testing this fish tank out.
My only complaint is that the fish tank is not wide enough, which makes it more suitable for smaller community fish like tetras and angel fish. Additionally, I feel really frustrated when it's time for cleaning the fish tank – if only it were a little wider!
---
7. Vapotek 360 Clear Acrylic and Plastic Cylinder Fish Tank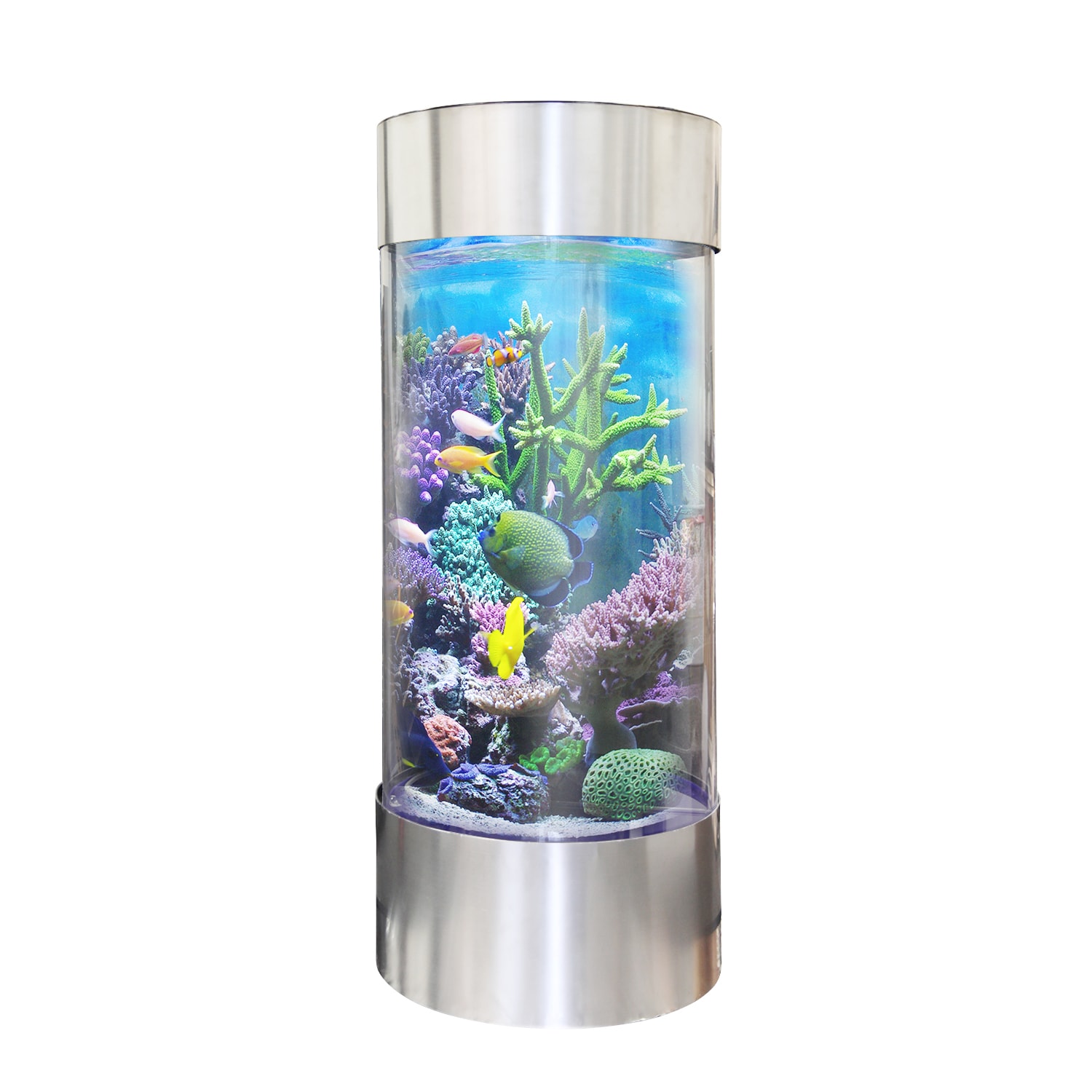 Buy it now
Vapotek Freshwater Fish Tank is made from materials such as acrylic, plastic and stainless steel. These are all very durable, so you are likely to enjoy long-term benefits from this product. What's more, the durable acrylic and plastic are resistant to water pressure, so the aquarium is capable of holding a high volume of water without breaking apart.
In addition to sturdiness, the tall fish tank also boasts exceptional aesthetic value thanks to its contemporary-looking cylindrical design, which allows it to be easily displayed at anywhere and helps improve the surrounding's ornament. The seamless acrylic cylinder enables a clear and transparent view of the content inside from any angle, while its sturdy stainless steel base and canopy plays an important role in providing a sleek contemporary appearance. If you would like to create a focal point for your house or office, then Vapotek Freshwater Fish Tank may just be the answer you are looking for.
The fish tank comes with a water filtration system, water pump, air pump, and bio balls to ensure the water's freshness and cleanliness. As a result, it provides a perfectly healthy living environment for your marine friends. For easy setup, the package includes some instruction documents. Hence, even if you are a newcomer, you should have little difficulty in setting up this elegant kit.
---
8. BioCube LED Tanks and Combo Kits
Buy it now
BioCube LED Aquarium Kit is a 16-gallon tank specifically designed to raise coral. Its hinge-top design results in a sleek, modern and clean-lined look, as well as helps keep the tubes and cords hidden from direct view. The fish tank is supported by a sturdy stand that allows it to be placed at anywhere you like.
The aquarium features a 24-hour timer on the top of the lid that allows you to control the three independent channels: Bright white, sparkling blue and color enhancing LEDs. Now, you are able to alternate between white LED lighting that mimics the sun and blue lights to resemble moonlight. Not only that, BioCube includes automatic 30 minute sunrise/sunset and 60 minute moonrise/moonset functions to replicate a natural daily light pattern.
BioCube tall fish tank with stand is designed with a compact and customizable filtration system, which is built-in to its back so as to remain hidden from view. The filtering system has three rear chambers: one for bacteria and algae to grow, one for a heater and a bag of phosphorus filtering media, and one for the pump itself.
The kit comes with everything you need: a light filter, LED lighting, quiet submersible pump, dual intakes and adjustable return nozzle. This saves you from the stress of visiting your nearby pet store to purchase missing items for your tall fish tank.
If you are interested in finding out more about fish tank stand, just click here.
---
9. Hawkeye 2-Gallon Betta Hex Fish Tank with LED Lighting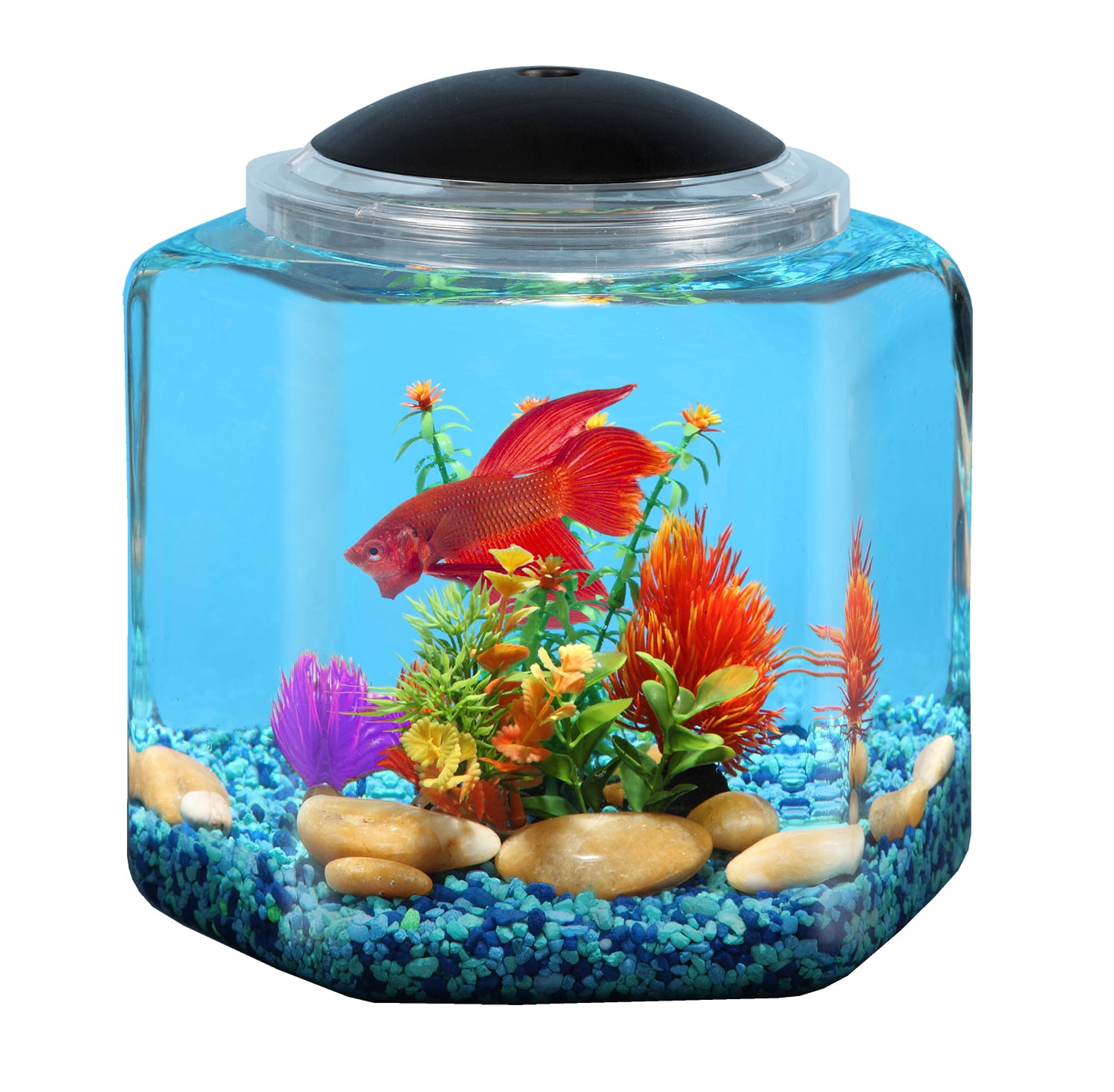 Buy it now
The first thing that comes to my mind at the mention of this tall fish tank is its versatile LED lighting system: it creates a gorgeous glow to your finned friends' kingdom, which can be manipulated at your will! The reason lies in the 7 color options, which allows you to adjust the fish tank's view depending on the time of the day. Morning? Let's go blue for a bright day. Evening? Why not a mysteriously purple aquarium? Try any option that best suits your taste.
The lighting system features a built-in light timer, which allows you to preset the light setting. Depending on your choice, the fish tank will automatically change its color after 2 hours, 4 hours, etc. To a busy person like me, that's just pure convenience!
Due to its premium material and well-fortified construction, Hawkeye 2-Gallon Betta Hex Fish Tank is able to remain in your possession for a long period of time. Not to mention, its sturdiness reduces the risk of water leaking and fish getting out.
To sum up, this is a contemporary-looking fish tank that every stylish fish owner will surely want to try out. The whole thing is very easy to set up and maintain, so even the most inexperienced and busy one should have little reason to exclude Hawkeye Betta Hex Fish Tank from their purchasing selection.
---
10. Aqua Japan Pro28W Low Iron Glass 24″x16″x18″ White
Buy it now
Aqua Japan 28 gallon fish tank is made from high-quality low iron glass on 3 sides, front and both sides. The ultra-clear material is not only ideal in terms of durability, but also presents strong aesthetic value. Putting this fish tank in your house is surely going to attract the attention of every visitor and make you feel proud.
The aquarium features a built-in corner overflow and a 40w LED Light Fixture (30 White and 10 Blue). The lighting system is ideal to provide a better view of the content inside and create a gorgeous glow to your fish's living habitat. No canopy is included, which allows you to easily view and access the tank.
Aqua Japan extra tall fish tank comes with a tall stand, so you can put in anywhere you like.
---
Things to consider before buying a tall fish tank
Due to the availability of several options nowadays, deciding which tall fish tanks to purchase may prove to be a brain-hacking process. Generally, you want a fish tank that provides a comfortable living habitat for your marine friends. Additionally, the aquarium must be strong and durable enough to ensure the safety of your fish, while also good-looking enough to provide aesthetic value.
Below are some things you need to consider before buying a tall fish tank.
Your fish type
Tall fish tanks have smaller footprints and less livable space for most fish. Hence, they are only meant for certain types of fish. For example, such tanks are recommended for deep-water fish such as Frontosas. For some marine creatures such as Angel Fish, their body feature and swimming pattern makes them suitable for tall tanks. If the types of fish you intend to raise do not fit such criteria (e.g: goldfish, who generally prefer long tanks), then you may want to re-consider your buying decision.
Size
It is tempting for fish lovers to raise as many fish as possible. Hence, you may want a bigger and taller aquarium in order to increase the number of fish you can keep in it. Whatever your decision is, just make sure to keep in mind the available space for your fish tank. If you cannot afford much space, then prioritize height over width.
Shape
If you want to have a better view of the content inside, then pay attention to the fish tank shape. Odd shaped aquariums will interfere with your view. Bow front, corner aquariums, hexagon tanks, and cylinder aquariums may look attractive, but does not provide full-angle view.
In my opinion, flat panel aquariums such as cube aquariums and rectangular tanks are the best options.
Material
The material used to construct your fish tank should offer dependable durability and aesthetic value. Considering these 2 requirements, I would like to say that there are only two viable options – glass or acrylic.
– Glass is the cheaper alternative. Despite being scratch-resistant, it is a lot heavier than acrylic. Not to mention, glass tends to distort the color, shape, and size of your fish.
– Acrylic is generally superior in providing better view of your aquarium's content. However, it is inferior to glass when it comes to durability, as the material is prone to scratching and yellowing with age.
In my opinion, glass is probably the safer choice for newbies. One more thing: the stand requirements of glass and acrylic tanks are not the same. For acrylic tanks, you need stands that support the entire bottom surface, or they will not be able to hold up against the water's weight.
Filtration Equipment
Without proper filtration equipment, it is no surprise that your marine friends will suffer from health problems and die eventually. Hence, before buying a fish tank, you should check to see if it has a filtration system incorporated into it. If not, then buying a separate one is mandatory.
Lighting System
In addition to aesthetic value, the lighting system also plays another important role in keeping the plants and fish inside the fish tank alive. Generally, tall fish tanks require more intense lighting than shorter ones so that the plants at the bottom can receive adequate light. Therefore, make sure that the aquarium you are going to buy features a competent lighting system.
Conclusion
A tall fish tank is just one of the nicest additions to your house. Not only does it make sense if you happen to be a fish maniac, it also provides a reliable stress-relieving method for those suffering from life pressure.
Choosing the appropriate fish tank is as easy as it may seem – that's why this in-depth review and buying guide is presented to you. All of the fish tanks I listed above have been tested and deemed worth the investment. As long as you study their features carefully, I'm sure you will be able to make the correct decision.